Saint Philomena Prayers
Saint Philomena
Feast Day: August 11th
We don't have much information about St. Philomena other than what was discovered when her tomb was discovered in the Catacomb of Saint Priscilla, 1802, Rome. The bones of a girl between the ages of 13-15 were found with the inscription PAX TECUM FILUMENA - Peace be to you Philomena - with drawings of two anchors, three arrows a palm and a small vial were found in the tomb. The vial contained remains of blood. Because leaving symbols or signs of this kind was a popular custom during this time of persecution, they were able to read that she was a virgin and martyr. The name Philomena contains the words: filia luminis, daughter of light. Shortly after this discovery, there were hundreds of miraculous healings and her popularity became widespread.
People such as St. John Vianney, St. Madeleine Sophie Barat (founder of the Society of the Sacred Heart), St. Peter Eymard (Founder of the Congregation of the Blessed Sacrament), and St. Peter Chanel (Marist Priest and Martyr),became her devotees.
After being miraculously cured, Venerable. Pauline Jaricot - (foundress of the Society for the Propagation of the Faith and the Living Rosary), insisted that Pope Gregory XVI begin an examination for the beatification of St. Philomena which happened a mere 35 years later in 1837.
The Holy Father called her the 'Wonder Worker of the 19c'. She would be named the 'Patroness of the Living Rosary' and the 'Patroness of the Children of Mary'. Philomena is the only person recognized as 'a saint solely on the basis of her powerful intercession'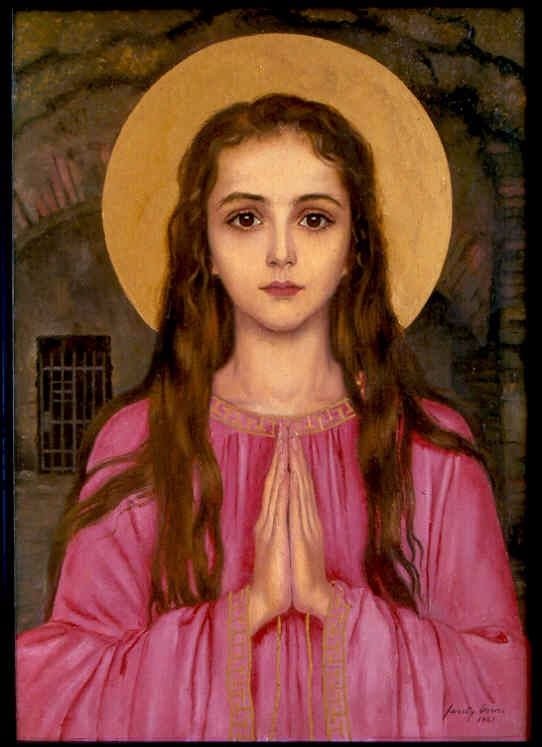 Chaplet of Saint Philomena
BEGIN ON THE MEDAL AND PRAY
Apostles Creed
3 white beads: 3 Our Fathers
in honor of the Three Divine Persons in thanksgiving for graces granted to Saint Philomena and for favors obtained through her intercession.
13 red beads
Hail, O holy Saint Philomena, whom I acknowledge after Mary as my advocate with thy Divine Spouse, intercede for me now and at the hour of my death. Saint Philomena, beloved daughter of Jesus and Mary, pray for us who have recourse to thee. Amen.
Concluding prayer
Hail, O illustrious Saint Philomena, who so courageously shed thy blood for Christ, I bless the Lord for all the graces He has bestowed upon thee during thy life, especially at thy death. I praise and glorify Him for the honor and power with which He has crowned thee and I beg thee to obtain for me from God the graces I ask through thy intercession. Amen.
NOVENA 1
We beseech Thee, O Lord, to grant us the pardon of our sins by the intercession of Saint Philomena, virgin and martyr, who was always pleasing in Thy sight by her eminent chastity and by the profession of every virtue. Amen. + Illustrious virgin and martyr, Saint Philomena, behold me prostrate before the throne whereupon it has pleased the Most Holy Trinity to place thee. Full of confidence in thy protection, I entreat thee to intercede for me with God, from the heights of Heaven deign to cast a glance upon thy humble client! Spouse of Christ, sustain me in suffering, fortify me in temptation, protect me in the dangers surrounding me, obtain for me the graces necessary to me, and in particular
+ PETITION +
Above all, assist me at the hour of my death. Saint Philomena, powerful with God, pray for us. Amen. + O God, Most Holy Trinity, we thank Thee for the graces Thou didst bestow upon the Blessed Virgin Mary, and upon Thy handmaid Philomena, through whose intercession we implore Thy Mercy. Amen.
NOVENA 2
O FAITHFUL VIRGIN and glorious martyr, St. Philomena, who works so many miracles on behalf of the poor and sorrowing, have pity on me. Thou knowest the multitude and diversity of my needs. Behold me at thy feet, full of misery, but full of hope. I entreat thy charity, O great Saint! Graciously hear me and obtain from God a favorable answer to the request which I now humbly lay before thee
+ PETITION +
I am firmly convinced that through thy merits, through the scorn, the sufferings and the death thou didst endure, united to the merits of the Passion and death of Jesus, thy Spouse, I shall obtain what I ask of thee, and in the joy of my heart I will bless God, who is admirable in His Saints. Amen.