Rosary Repair Service
Beads with Faith offer rosary repair, including restoration of treasured antique rosaries and replacement and substitution of missing beads and other rosary parts.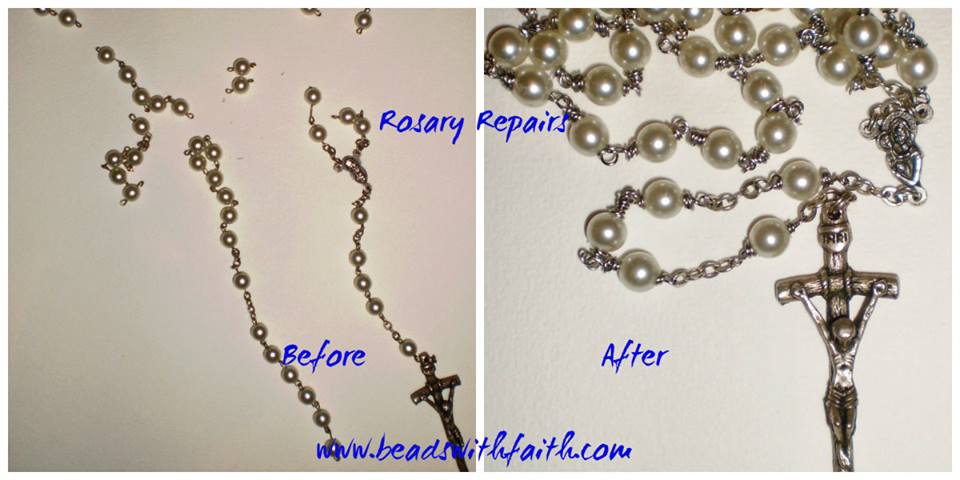 BASIC ROSARY REPAIR
This would be a repair on a Cord Rosary or reattaching a crucifix or fixing a couple of links on a set of wire Rosary Beads.
ROSARIES IN SERIOUS DISREPAIR
If your Rosary is in a serious state of disrepair, or you are missing beads or parts we can source beads and components for your Rosaries and restore them for you. You will receive a quotation once we have assessed the condition of the Rosary and what parts are required.

WIRE WRAP MY ROSARY BEADS
Many people choose to have their Rosary Beads completely re-wrapped using the wire wrap method which creates a strong and lasting Rosary that will not break again.
______________________

CAN I DONATE MY BROKEN ROSARIES?
If you have old/broken Rosaries that you no longer want, please send them to Beads with Faith. We will repair them and either send them to the missions we support in Belize and India, you can find out more on our missions page.
We recommend sending rosaries to be repaired in either a padded envelope or box. Make sure the rosaries are packed well so they do not move around inside, but please do not use tape or other adhesive to secure the rosary in the package as this can harm the finish on beads and/or metal parts.
______________________
Beads with Faith will contact you when your Rosary beads arrive with us and we will always send confirmation of Posting and acquire proof of posting for each repaired Rosary we return.