Mission Rosary Work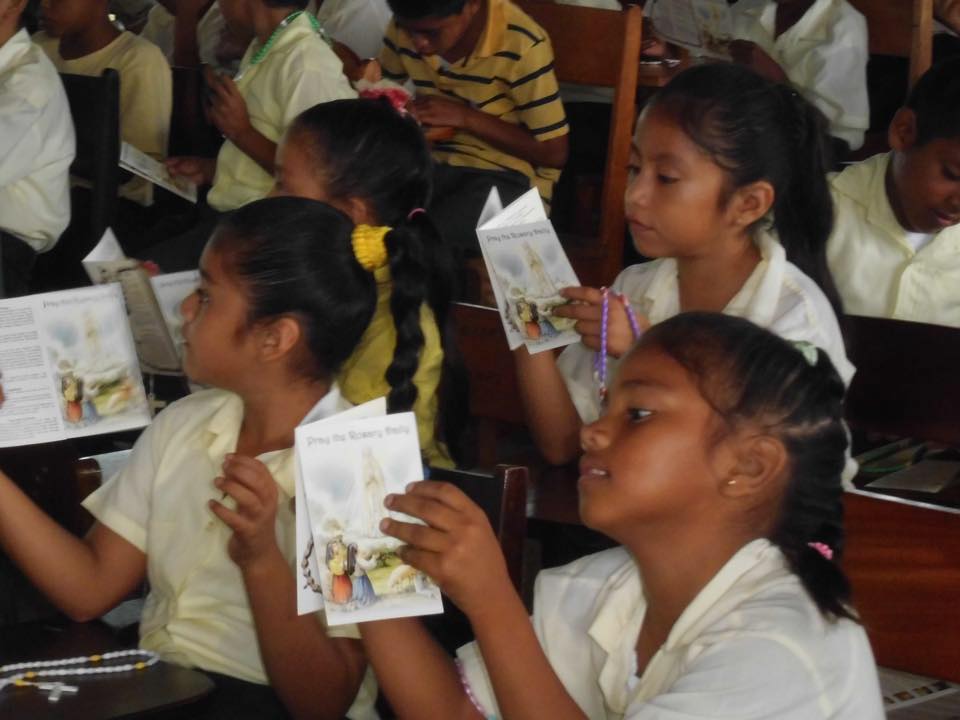 BELIZE, Central America
REQUESTS ROSARY SUPPLIES, ROSARY BEADS, ROSARY PRAYER CARDS, DIVINE MERCY POSTERS, ROSARY LEAFLETS AND POSTERS.
THIS IS A MESSAGE FROM MANUELA
"Born in Glasgow Scotland, I was brought to Belize Central America by my father when I was two and a half months old. At the Bishopâ??s request, I am co-leader (along with my aunt Thomasita) of a rosary school evangelization project in the country of Belize; we also give out rosaries to the hospitals, prison, prayer groups and families. We travel around the country to schools to teach the students about the history and meaning of the rosary and how to pray the rosary using the rosary beads. We leave as many rosaries in the schools as there are children. We also distribute rosary leaflets and rosary posters which become property of the school. Each child receives a Divine Mercy poster to take home and each teacher receives an informational packet on different aspects of the Catholic faith too. Volunteers (mainly children and elderly) make the rosaries around my auntâ??s kitchen table in Belize City. Our group also travels to teach others in different parts of Belize how to make the rosary. We ask rosary groups outside Belize to make rosaries for the mission and / or to send rosary making supplies and prayer cards. A volunteer from England has been coming to help in our ministry when we go into the schools to teach. This past May, we travelled to the Stan Creek District to teach the rosary in the schools. An article in Belizeâ??s "Christian Herald" on the May 2013 rosary session in the schools is attached. During May 2013 some friends also came on a cruise ship to Belize from Ohio USA and visited a school where our rosary team was teaching. The children felt really special. Last year a couple sisters from the Disciples of Our Lord Jesus Christ Religious Community in Amarillo Texas came to Belize and conducted a workshop for the children of our rosary ministry. Our ministry touches hearts and brings joy and peace to many. We are planning to build a Rosary Center where more people can come to help make rosaries. Our home is becoming too small for the amount of people who want to come to help. We have already secured the land for this project. Please pray for our rosary ministry."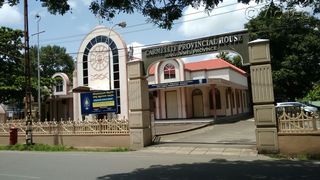 INDIA
Fr. S. John Joseph,St. Charles Borromeo church, Tharamangalam-636 502,Salem. Dt. T.N. India.
This is a parish in the Tamil Nardu area of India where Christians are a minority. There have been some examples of religious discrimination.
Many Christians are of the former "untouchables" caste. They have little and are not part of any Indian economic boom.
To support the Faith and Spirituality of the people, Father has asked for rosaries, crucifixes, medals. either new or old, unwanted items.
They can be sent directly to Father
+.....
INDIA - CARMELITES
Carmelite Provincial House Sirumalar Nagar,Manikandam Tiruchirappalli-620 012,Tamil Nadu, India
This is the centre for the Carmelite Friars in Tamil Nadu. The above information about the area applies here. The Fathers do a great deal of work, they train priests, run schools, technical schools, Parishes and have a centre for Carmelite spirituality.
Rosaries, Crucifixes and medals would be appreciated. In addition for the training of Priests, Amazon kindles are needed. These give access to hundreds of free books vital in the education of the clergy.
It is cheaper to send a kindle than a parcel of books and they are easy for the Fathers to keep up to date, transport and don't have the storage problems of large librarys.
Items can be sent directly to The Fathers
+...
WHATEVER ELSE YOU DONATE - PLEASE DONATE YOUR PRAYERS
If you are interested in setting up a Rosary Making group in your Parish to make Mission Rosaries please get in touch