Family of Mary Immaculate Queen Rosary Beads
Posted on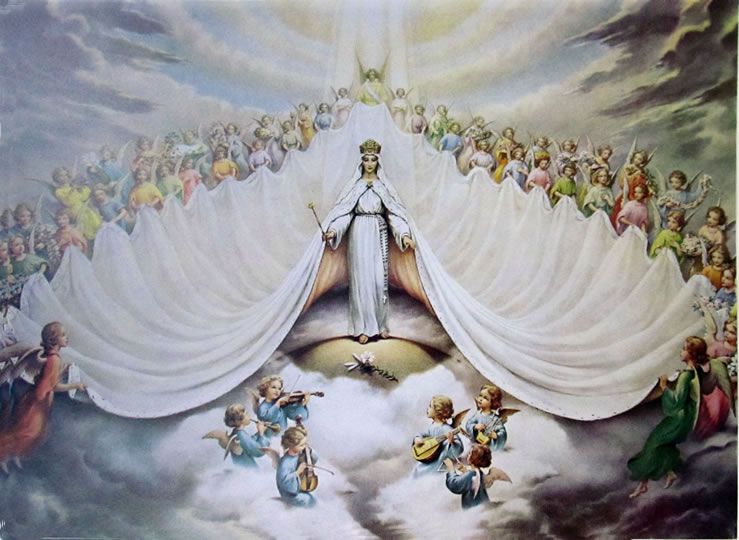 In 2018 we recieved our first commission to create these beautiful Rosary Beads for the Family of Mary Immaculate Queen, Scotland. The family of Mary Immaculate Queen do amazing work throughout Scotland, helping people to consecrate their homes and families to Mary Immaculate Queen of the Universe through enthronement of the Blessed Mother.
This prayer Apostalate are happy to be contacted for further information about enthronement and for the purchase of these beautiful Rosary Beads. Both were created from colours in the image above of the Blessed Mother. The Apostolate had the Centre medals especially designed for these Rosary Beads and the Crucifix is a simple but beautiful one.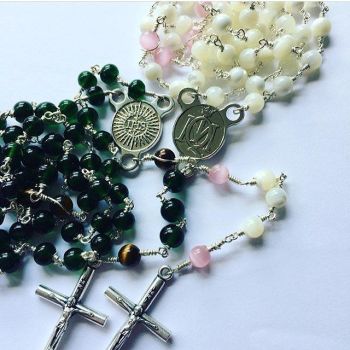 Each Rosary has been handmade by myself, and is meticulously wire wrapped for strength and durability and comes with a lifetime guarantee.
The white and pink Rosary is created using mother of pearl beads for the Ave Maria's and pale pink cat's eye beads for the Pater Nosters. As you can see from the Image of Mary Immaculate, Queen of the Universe, these are the colours of the Blessed Mothers cloak.
The green and brown Rosary is created using dark green glass beads for the Ave Maria's and tigers eye beads for the Pater Nosters. These are colours on the lily stalk.
It is an utter joy to create these Rosary beads for this wonderful Marian organisation, and to help them in their mission.
Should you wish to purchase these Rosary Beads or find out more about enthronement of your home and consecration of your Family to Mary Immaculate Queen, please contact :
Jim Murphy - by email
Their website is currently under Construction but you can visit it here