Drawing the Faith with Mary - A collaboration
Posted on
If you follow us on social media, you may have noticed some excitement a few weeks ago on instagram and facebook! Beads with Faith have been looking for someone to help us with artwork for a VERY long time ... I love to create Rosary Beads and Chaplets and can draw a little - but wanted drawings that were new and of a great standard to include in our resources for schools and individuals - I have spoken to many people but we never found the right fit!
Then. Lo and behold I come across a wonderful artist on instagram - Drawing the Faith with Mary - I was blown away and I hope you are too :)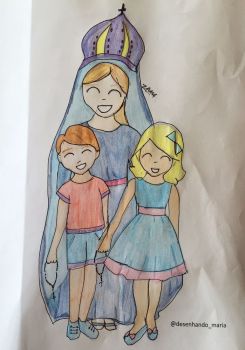 Elisima has been a true blessing and despite being from Brazil and neither of us speaking the same language Our Lady has thrown us together and created a collaboration that I believe will be used to touch the hearts of many! We started with the Joyful Mysteries as Colouring sheets so the images you see have been coloured by myself and the children and Drawn by Zama (Elisima) - They will be used in our educational materials in a variety of ways
Here Elisima tells us about her experience of Mary in her life, I think her ministry and testimony are beautiful!
________________________________________
Hello,
My name is Elisama, and come through this letter or these drawings, spread a little of the love that consumes me from the Virgin Mary.
I am very grateful to God for all He has given me, and one of these is to have the mother of my Savior as our Mother.
Some time ago, I had the grace to meet Maria with a unique experience. I already knew, but had no love for her ... I was losing all my strength, all my love, the Beloved Jesus, and one night while watching a sermon on the Virgin began to want to meet you! The more I knew, the more I loved my Beloved!
She took me back to Love, she made me return to the path of the Beloved!
Now I understand why on the cross Jesus gave his Mother for our Mother. Because he knew that we would need the assistance that we can take to the source of salvation, Jesus.
That was how my desire to be like Mary grew increasingly being because I know how she can best be Jesus. And she with her great love, educates and leads me to the path of holiness Beloved Jesus.
This was a summary of my experience with Mary.
I want to so conclude, wishing that the Blessed Virgin is always with you on this journey to paradise, the Beloved! That we modeled it, for her, with her, so as to be better for Jesus! To Him all honor and glory. Amen!
______________