Saint Teresa of Calcutta - Our New Saint!
Posted on
"Fear not. Teach them to say the Rosary - the family Rosary and all will be well. - Fear not - Jesus and I will be with you and your Children"
The Blessed Virgin Mary to Mother Teresa, 1947
What a beautiful message from Our Blessed Mother!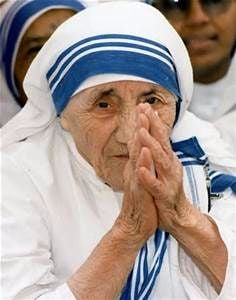 One of the amazing things of our time, our generation, the John Paul II generation, has seen the Canonisation of more Saints than any other, we have seen living, breathing Saints before us too - we have seen Sainthood in action - for me - I find this absolutely amazing, and also in many respects humbling, we are told to strive to be Saints, how many of us do?